On Friday, September 16, the BOPC will be holding the 9th annual Party for the Parks at Delaware Park's historic Marcy Casino. The theme for this year's party, is British invasion, and promises a groovy night full of the best entertainment, including live music, great food, a basket and silent auction, spectacular visual performances, and much more. On this night, Delaware Park will come alive from 6:30 to 11:00 p.m. in celebration of Buffalo's historic 1,200-acre Olmsted Parks and Parkway System.
Background: The event, which is one of the Conservancy's key fundraisers for the sustainability and growth of the city's iconic parks, brings awareness about the Conservancy's mission to enhance, restore, and maintain the Buffalo Olmsted Park System. It has been voted Buffalo's best fundraiser year after year by Buffalo Spree magazine...you won't want to miss the excitement!
The Ifs: These local stars, otherwise known as "The Secret Agents of British Invasion," will perform on a floating stage on Hoyt Lake. They will be sharing the stage with Grand Island's alternative/indie rock/Brit-Pop group, Inline. From their website:
"Founded in Warrington, Cheshire U.K. in the early 60's by schoolmates reginald van if, nebs, filthy mcnasty, and teddy ulster. First act to capture the big beat sound made famous by such acts as the beatles, kinks, who, rolling stones, and others. A vast conspiracy involving certain members of the royal family, the transit union, the BBC, and a few jealous musicians ended their popularity suddenly in late 1963. With the recent discovery of lost manuscript the band has reformed and now tours the world seeking to reclaim the sound that was once theirs alone..... ......Well at least that is what we would like you all to believe!.. ;-)"
Check out their website and Myspace pages for more info and samples of their music!
The British Car Club of WNY: Their mission is simple: "
The primary purpose of the British Car Club of Western New York (BCC) is two-fold: to foster camaraderie and good will among enthusiasts of British cars, and to exchange ideas and technical expertise attendant to the restoration and preservation of British cars." The author of this blog post has personally spent time showing a Mineral Blue Mark I MGB at one of their shows, and they are an extremely hospitable group, with an excellent selection of classics.
For more info, check out their website!
Pyromancy Fire Dancers: For those who need some wild excitement, Buffalo's own fire performance will be present as well. For those who have not seen them before, their talent speaks for itself in this video:
From their website (click for the rest):
"
Fire dancing is an amazing art of skill and precision, using instruments similar to martial art weaponry. These instruments are set on fire and spun about the body. Some of theses instruments are commonly known where others may not be quite as familiar. The more familiar instruments include staff, double staff, batons, poi, and hula hoops. The lesser know instruments are fans, rope dart, comets, meteors, fire fingers, and more."
Buffalo Beach Tennis: Sports fanatics rejoice, this ambitious bunch, which has been spotted playing "Snow Tennis" at the Powder Keg Festival, will be present as well. This year Beach Tennis will take on a Wimbledon theme!
Check them out on their Facebook page!
Queen City Roller Girls: Think cruising around on blades is fun? Wait until you see this crew in action. Turning roller derby into a girl-powered, intensive sport, they're definitely not playing any [ordinary] games. Their mission, in their own words:
"
Queen City Roller Girls (QCRG) is a skater owned and operated flat-track roller derby league in Western New York. QCRG is continuously committed to the reviving and redefining of the classic sport of roller derby, with a 21st century twist. Flat-track roller derby is a full contact sport played by independent, strong women. The League provides an opportunity for athleticism, camaraderie, and self-expression. We inspire on and off the rink; we serve the community, get fit, and have fun."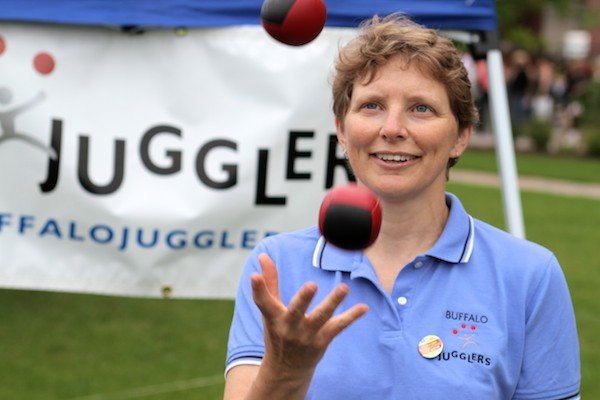 Buffalo Jugglers: This fun-loving and family-friendly talented group, who meets every Monday night at the Abraham Lincoln statue in Delaware Park, will be showing off their skills as well. Not only do they normally perform for others, but also take pride in sharing the joy of juggling with those interested. Formed in the late 1970's, they've definitely worked up a reputation.
For more information, and plenty of photos, be sure to look at their website
The event will be led by our local news reporter Autumn Lewandowski (who has a blog, located here). Sponsors of this year's "Party for the Parks" include City Council Members Michael J. LoCurto, Michael P. Kearns, and Demone A. Smith, as well as the Rupp Family Foundation, West Herr Auto Group, Lawley Insurance, Entercom, WILLCARE, and MassMutual.
Tickets are $20 for general admission. However, starting September 1st, tickets will be $25 for general admission. All proceeds benefit the Olmsted Park and Parkway System. To purchase tickets for this over-21 event, please visit the Olmsted Parks Conservancy's website at

www.BFLOparks.org

or call (716) 838-1249 ext 11.
WE HOPE TO SEE YOU THERE!